California's Fracking Fluids
The Chemical Recipe
EWG
Wednesday, August 12, 2015
California's Fracking Fluids
The Chemical Recipe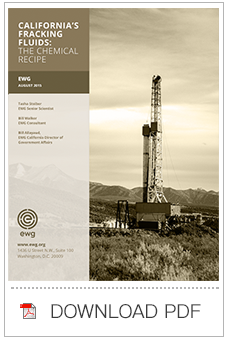 The fluids used in hydraulic fracturing of oil wells in California contain dozens of chemicals that are hazardous to human health, including substances linked to cancer, reproductive harm and hormone disruption, an EWG analysis of state data shows.
Under a 2013 California law (SB 4) requiring disclosure of all chemicals used to boost production from oil wells by fracking or similar methods, drilling companies reported using 197 unique chemicals in 691 oil wells from December 2013 through February 2015. The fracking fluids typically contained two dozen or more different chemicals. EWG's analysis1 found that they included:
15 listed under California's Proposition 65 as known causes of cancer or reproductive harm
25 likely to contain impurities of Proposition 65-listed chemicals
5 that the European Union has associated with an increased risk of cancer
6 associated with reproductive harm
3 linked to clear evidence of hormone disruption
12 listed under the federal Clean Air Act as Hazardous Air Pollutants known to cause cancer or other harm
93 associated with harm to aquatic life.
California's fracking disclosure law is the most comprehensive in the nation. The data in the reports submitted to the state's oil and gas regulatory agency provide the most detailed accounting available of the chemical makeup of fracking fluids, at least for one state.
Fracking fluid is a mix of water, chemicals and sand that is pumped into underground shale rock formations under great pressure to free up trapped oil and gas. After a well is "treated" in this way, some of the fluid flows back to the surface, usually picking up additional chemicals that occur naturally in the shale. In California, most of the wastewater is disposed of in underground injection wells or in unlined pits, some of them dangerously close to potential sources of drinking or agricultural water. An earlier EWG analysis found that fracking wastewater contains numerous hazardous substances, some at levels much higher than state drinking water regulations allow (EWG 2015).
Nationwide, a recent U.S. Environmental Protection Agency report found nearly 700 fracking chemicals in use (EPA 2015a). But EPA relied on data from FracFocus. org, an industry-funded voluntary database that – unlike the California law – allows companies withhold information they consider trade secrets. FracFocus.org has repeatedly come under criticism for inaccuracies and lack of transparency (Hass et al 2012).
Comparing the state and EPA data shows that some of the most hazardous chemicals are used less often in California than nationwide, but the typical California job uses about twice as many distinct chemicals as the national average.2 And because fracking in California tends to use less water than in other states, the concentrations of chemicals in fracking fluids are sometimes higher (CCST 2015).
The new EWG analysis looks at what goes into the fracking fluid before it's pumped into a well, revealing the likely origin of some contaminants in the wastewater and also the array of hazardous chemicals used, stored or transported at fracking sites. These chemicals have the potential to contaminate drinking water, air and soil, as well as to endanger the health of oilfield workers and people who live or work nearby. It is an industrial process that from beginning to end is a source of potential exposure to chemicals that are hazardous for people and the environment.
All citizens, and especially those living near fracking operations, have a right to understand the risks posed by fracking chemicals. In the absence of a moratorium or ban on fracking, California should make public safety its primary goal, not increasing the production of hydrocarbons. To accomplish this, state regulators should:
assess whether less harmful alternatives can replace the toxic chemicals currently used;
immediately halt the injection of wastewater into potential sources of drinking or agricultural water; and
support recommendations for groundwater monitoring in oil and gas areas and properly enforce the model criteria developed under the disclosure law.
1 The 197 chemicals were compared to an EWG database drawn from 15 sources, including government agencies, industry panels and aca- demic institutions and Material Safety Data Sheets required by federal regulations. The tables in the Appendix provide the unique Chemical Abstracts Service Registry number for each chemical, which can be used to look up the safety data sheet.
2 It is unclear whether California fracking jobs actually use more unique chemicals or if the difference is because California's disclosure law is more comprehensive.