Chrome-Plated Fraud
How PG&E's Scientists-For-Hire Reversed Findings of Cancer Study
Chrome-Plated Fraud: The ChemRisk Documents
The truth was more complicated than that, but Beaumont had uncovered the basic outline of the fraud. The details of ChemRisk's deception emerged from documents filed in the Kettleman City lawsuit against PG&E.
In 1995, PG&E's lawyers had suffered a major setback in the Hinkley lawsuit: The judge had admitted the 1987 study was an important piece of evidence that chromium-6 was harmful to human health. [31,32] Under contract to PG&E, McLaren/Hart-ChemRisk set out to get additional information that might cast doubt on the study. McLaren/Hart had offices in China, and employees there managed to track down the elderly Dr. Zhang, who was retired from the JinZhou health station, spoke little English and had no computer. [33,34,35,36]
In April 1995, Zhang signed a consultant's contract with McLaren/Hart. According to the documents, he was initially paid $250 a month to provide "document review and consultation regarding epidemiology, groundwater contamination and health effects of chromium." [37] All told, he was paid less than $2,000; ChemRisk's fees from PG&E's lawyers were between $20,000 and $30,000. [38,39,40,41]
It's unclear if, or at what point, Zhang knew he was really working for PG&E. In a 1997 deposition, a ChemRisk scientist named Brent Kerger, who oversaw the firm's work on the fraudulent study, testified that he didn't think this information "would be of particular interest" to Zhang, but that he later told Zhang when asked about it. [42] But PG&E's attorneys knew McLaren/Hart had retained Zhang, and why. Asked in the deposition, "Did ChemRisk inform PG&E's counsel that ChemRisk was involved in getting the Zhang '97 article published?," Kerger replied: "Yes, they knew." [43]
Although Zhang worked on the project, ChemRisk was clearly responsible for most of the work and content of the 1997 paper. An August 1995 memo from Bill Butler describes Zhang's role merely as "research assistance." [44: Excerpt | Full document] In the memo, Butler complains that: "It is at times difficult to convince Dr. Zhang of the importance to us of the specific details of his studies so that we can execute our own analyses." [Emphasis added.] [44: Excerpt | Full document] Kerger later testified that "all of the numerical analyses that were done with respect to the ... cancer death rates ... was [sic] the responsibility of Bill Butler." [45]
"I Guess It Wasn't Standard Practice"
Other testimony revealed that all of the drafts of the article were typed by Tony Ye — who was just out of college and seems to have been assigned to the project because he spoke Chinese — in English on ChemRisk computers and changes were made by a ChemRisk word processing program. [46,47] More than ten early drafts of the paper show handwritten changes made by ChemRisk employees and the cover pages of two early drafts of the article actually state that it was "by ChemRisk," apparently before Ye realized the firm's role should be covered up. [48,49,50,51,52,53,54,55,56,57,58]
No attempts were made to get the study published in a Chinese-language journal; it is unclear as to whether a Chinese version of the final article ever existed or if the final JOEM article was ever sent to Zhang. [59,60] In a 1996 memo to PG&E's lawyers, ChemRisk's Brent Kerger lists the JOEM article as one of eight "ChemRisk Chromium Manuscripts in Peer-Reviewed Scientific Journals." (Notably, it was the only one that did not list at least one ChemRisk employee as an author.) [61] ChemRisk actually misspelled Zhang's name on all of its drafts of the manuscript, on the cover letters sent to journals, and in the final published article itself. [2,48,49,50,51,52,53,54,55,56,62]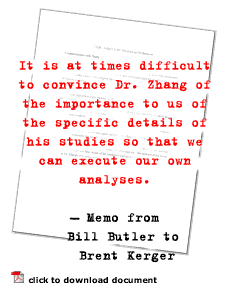 In December of 1995, ChemRisk finished the final draft of the paper. Although very early drafts of the paper mentioned ChemRisk's involvement and a draft cover letter to another journal directed correspondence to Zhang care of ChemRisk, neither the final manuscript article nor the final cover letter included any mention of ChemRisk. [48,49,50,51,52,53,54,55,56,57,58] Rather, the cover letter was typed on ChemRisk computers but printed on plain white paper, and directed correspondence to be sent to Tony Ye's home address. [48: Excerpt | Full document, 49: Excerpt | Full document, 63,64] When asked under oath whether this was unusual procedure, Kerger responded: "I guess it wasn't standard practice." [65]
ChemRisk wanted to get the paper published quickly because PG&E's negotiations over the Hinkley settlement were coming to a close. The firm submitted the article to two journals at the same time — JOEM and the Archives of Environmental Health — even though this violated both journals' policies against simultaneous submissions. [66,67] In depositions, ChemRisk employees claimed not to know of the journals' policies, but not only are such policies standard in the academic world, ChemRisk signed forms promising that the study was not being considered anywhere else. Compared to ChemRisk's other deceptions, the simultaneous submission is a minor sin, but evidence of the firm's willingness to disregard ethics to its clients' advantage.
In May 1996, Tony Ye found that the paper had been accepted by both journals. [68] ChemRisk withdrew the paper from the Archives of Environmental Health and pursued publication with JOEM. A couple of weeks later ChemRisk sent the following memo to PG&E's attorneys:
We are pleased to inform you that the short communication regarding clarification of Dr. Zhang's previous work on cancer mortality in a Chinese population exposed to Cr(VI) in water was accepted with no revisions in the Journal of Occupational and Environmental Medicine. Dr. Zhang's previous paper (which is cited by ATSDR) stated that total cancer and stomach cancer mortality was significantly elevated in populations living along the Cr(VI)-contaminated groundwater plume. This short communication clarifies that the cancer death rates (both total and stomach cancers) "were not correlated with the degree of exposure to Cr+6" and that "neither stomach nor lung cancer indicated a positive association with Cr+6 concentration in well water." [69]
The memo's reference to ATSDR signifies PG&E's concern about the fact that the Agency for Toxic Substances and Disease Registry had cited the 1987 Zhang study in support of a connection between chromium-6 exposure in drinking water and cancer. To ChemRisk, this was the strongest indicator of their success in getting the findings of Zhang's study reversed.
Zhang died sometime before 2001 so it is impossible to know what he thought of the final article that bears his name. Much of the language tempering the study's conclusions in early drafts is absent in the final article. An earlier draft said: "These results suggest that the high cancer death rates in this area may be partially attributed to lifestyle or environmental factors not related to the chromium (VI) contamination," while the final paper made a much stronger assertion: "Nonetheless, these results suggest that lifestyle or environmental factors not related to the chromium (VI) contamination are the likely source of the variation in these cancer rates." [56: Excerpt | Full document, 2]
Thirteen Ethical and Scientific Flaws
There is evidence Zhang wasn't happy with ChemRisk's analysis. In a September 6, 1995 memo to Butler, Ye wrote: "Dr. Zhang did not totally agree with us with the conclusion section" and that he had "to make a little compromise." [70: Excerpt | Full document] But ChemRisk certainly didn't display any qualms about compromising the standards of sound science. After reviewing the JOEM paper, the original 1987 Zhang and Li study, translations of Zhang's earlier work published in China, as well as earlier drafts of the 1997 manuscript, court depositions, and internal documents obtained through independent litigation, OEHHA drew up a list of thirteen ways in which ChemRisk committed ethical or scientific breaches, including:
Failure to disclose who wrote the manuscript.
Failure to disclose that the study was funded by PG&E.
Falsely stating in the published paper that stomach cancer rates weren't available for the province.
Basing analysis on the level of contamination detected in the wells in 1965, knowing that by the end of that year the picture of contamination in the wells had dramatically changed.
Ignoring useful data that were readily available.
Misrepresenting the study design in several ways to make it seem stronger.
Failing to disclose key facts about the data presented.
Simultaneous submission to two journals. [71]
The lies, errors, and misrepresentations in the 1997 JOEM article don't stop even there. EWG's review of court documents and depositions show that several of the high chromium-6 concentrations reported in Zhang's original 1987 study were left out of the 1997 paper. [72] Worse, a graphic reporting chromium-6 concentrations in the wells of the Chinese village most affected by chromium contamination also erroneously shows the chromium-6 levels of the wells in a different, less contaminated village. [73]
In addition, OEHHA pointed out that the "13-year observation period after the first exposure was relatively short for a study of human cancer, because many cancers could occur after the end of the observation period." [71: Excerpt | Full document] In other words, even if all of the analysis had been conducted correctly, a negative finding between chromium-6 exposure and cancer would still be considered suspect simply because it often takes longer than 13 years for cancer to develop after the first exposure to a carcinogen.