Forbidden Fruit | Illegal Pesticides in the US Food Supply
Illegal Pesticides in the U.S. Food Supply
Forbidden Fruit | Illegal Pesticides in the US Food Supply: Introduction
Forbidden Fruit is the fourth in a series of Environmental Working Group reports on pesticides in food and drinking water. Our previous studies, Tap Water Blues; Washed, Peeled: Contaminated; and Pesticides in Children's Food; are original analyses of federal government information designed to help the public and policy-makers better understand the issue of pesticides in food and water, with special attention to the risks faced by the very young.
Under the current pesticide regulatory system, infants and children receive no special protection from pesticides. Instead, children receive adult doses of many different pesticides each day, in combinations and mixtures that have never been tested for their toxic effects. Our work over the past two years has shown that:
In a three-year period, from 1990 through 1992, the FDA found 103 different pesticides in just 22 commonly consumed fruits and vegetables (Wiles and Campbell 1993).
Washing or peeling does little to reduce or eliminate the numbers or levels of most pesticides found on fruits and vegetables. Up to eight different pesticides were found on a single apple sample after it had been washed and made ready to eat (Wiles and Campbell 1994).
Pesticide mixtures in food and water are extremely common. In fact, it is not unusual for children to eat single pieces of fruits or vegetables with five or more pesticides on them. In contrast, safety standards for pesticides assume that people are exposed to one pesticide at a time. No accounting is made for pesticide combinations (Wiles and Campbell 1993, 1994).
Since 1987, 67 pesticides or pesticide metabolites have been detected in rivers and reservoirs used for drinking water in the Midwest. None are removed by routine drinking water treatment (Wiles, Cohen et al. 1994).
Over 11 million people in the nine Corn Belt states and Louisiana drink tap water that is routinely contaminated with at least one of five cancer-causing herbicides. Hundreds of thousands of infants in these states drink infant formula and juices reconstituted with this herbicide-contaminated drinking water (Wiles, Cohen et al. 1994).
Exposure to pesticides in food and water is disproportionately heavy early in life. Up to 35 percent of lifetime exposure to some carcinogenic pesticides occurs by age five (Wiles and Campbell 1993).
Illegal Pesticides in Food
Forbidden Fruit investigates the enforcement of food tolerances as reported in the Food and Drug Administration's Pesticide Monitoring Database for the fiscal years 1992 and 1993. Instead of analyzing what is wrong with legal levels of exposure, Forbidden Fruit analyzes how often current exposure is not legal in the first place. We found pervasive exposure to illegal pesticides on 42 heavily consumed fruits and vegetables (Table 1).
Table 1. Annual consumption estimates for the fruits and vegetables analyzed in Forbidden Fruit.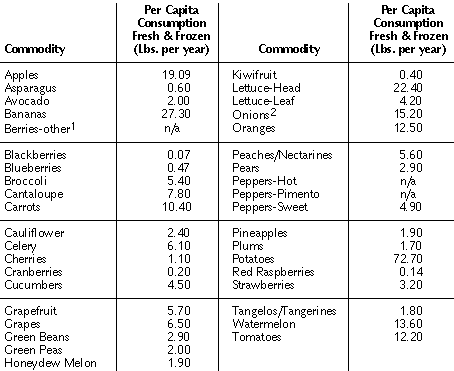 Figures are from 1992.
n/a=not available
The 42 fruits and vegetables include the 38 commodities listed above, as well as green onions, shallots, leeks, and nectarines.
1. Berries-other includes black raspberries, boysenberries, gooseberries, lingonberries, loganberries, etc.
2. Onions include bulb, green, shallots, and leeks.
Source: Environmental Working Group. Compiled from Food Consumption, Prices, and Expenditures, 1970-1992. USDA. Economic Research Service. Statistical Bulletin Number 867. September 1993.
Many of the problems we found are inherent to the nearly impossible task of monitoring the entire food supply for over 600 pesticides used worldwide that may or may not be in any given sample of food. The FDA's enforcement authority is extraordinarily feeble, eviscerating any potential deterrent value that FDA pesticide monitoring may have. And sprawled over the top of this unforgiving charge are federal management schemes that are poorly conceived and technologically antiquated, virtually guaranteeing most of the problems exposed in this report.
Nonetheless, when asked, the FDA maintains that its monitoring results and other pesticide data indicate that the U.S. food supply is safe. This claim is grounded in the assertion that pesticide violation rates are relatively low, at 1.5 percent for domestic produce and about 3.9 percent for imported fruits and vegetables, for an overall rate of 2.8 percent (FDA 1993b, 1994c).
At its best, this claim is misleading. It neatly sidesteps the scientific consensus that legal levels of exposure to pesticides have little to do with safety, particularly for infants and children, (see The National Academy of Sciences Found Legal Exposure to Pesticides is No Guarantee of Safety for Infants and Children). And it masks the violation rates for some crops that are far higher than the average rate for the entire food supply. At its worst, the FDA's claim is just plain wrong and contradicted by its own data.
Our initial review of the FDA's Pesticide Monitoring Database revealed pervasive problems with the agency's monitoring of the food supply for pesticides. Particularly glaring were situations where illegal residues were found by FDA chemists on fruits and vegetables, but where these same residues were not reported as illegal by the agency. This discrepancy led to the detailed audit of the FDA residue monitoring program that forms the body of this report.
Organization of the Report
Chapter 1 revisits problems identified by the General Accounting Office (GAO) in past audits of the FDA monitoring program. Since 1980, no fewer than 22 reports from the GAO have documented serious problems with the FDA's ability to adequately police pesticides in the food supply. None, however, turned up the problems found in this report.
Chapter 2 provides an analysis of our results. We examine the nature and extent of pesticide violations and the discrepancies between the illegal pesticides identified by FDA chemists and those reported as violations. The results are presented on a crop, country, and chemical-specific basis.
Chapter 3 presents our conclusions and recommendations to improve pesticide monitoring. The Appendix describes the methodology for our audit of the FDA's Pesticide Monitoring Database. It details our data sources and the creation and refinement of the pesticide tolerance database used to examine the FDA pesticide monitoring program.