Monsanto in Alabama: Before and After Whitman's Meeting
A crucial section of the Partial Consent Decree changed significantly just one week after EPA Administrator Whitman received a briefing from her staff on the Anniston PCB situation.
With this change, EPA usurped control from the State of Alabama, taking charge of the entire scope of PCB contamination in Anniston. Monsanto's defense attorneys used this Partial Consent Decree in an attempt to thwart a much tougher cleanup being ordered by the State Court.
Before the meeting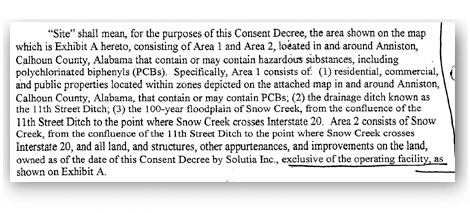 1/22/02 — Draft Partial Consent Decree definition of "site" on page 7 indicates that EPA will have control of all the areas "exclusive of the operating facility." The "operating facility" is governed by the state under RCRA permitting authority. With the Abernathy v. Monsanto trial just getting underway, Monsanto's outside counsel writes EPA explaining that resolving the Anniston issue with EPA is a "top priority" for Solutia/Monsanto. [View document]
After the meeting

3/13/02 — Partial Consent Decree definition of "site" on page 7 changes to include the operating facility under EPA's jurisdiction: "The Site includes, but is not limited to, the area covered by the RCRA permit." (Whitman briefing was March 6, 2002.) [Excerpt | Full document]