Swamped With Cash
Political campaign contributions and the assault on America's wetlands laws
Political campaign contributions and the assault on America's wetlands laws
Last year, the House of Representatives passed the most sweeping bill to weaken Federal protection of wetlands ever considered by Congress. This bill passed as part of H.R. 961, a comprehensive rewrite of the Clean Water Act that would also dismantle most federal protections for the nation's rivers, lakes and streams, jeopardizing drinking water supplies and harming the economies of many communities that depend on clean water. A bill with almost identical wetlands provisions, S. 851, is currently pending in the Senate.
A minimum of 73 million acres of wetlands, or 71 percent of the remaining wetlands in the contiguous U.S., would no longer be designated as wetlands under the two bills, according to evaluations conducted by federal and state officials. (See Table 1.) Many of the wetlands that would lose Clean Water Act protection are important, widely recognized wetland systems, including portions of the Florida Everglades and Virginia's Great Dismal Swamp; prairie pothole wetlands in the north-central U.S.; bottomland hardwood swamps throughout the central and southeast U.S.; and many coastal wetlands, including wetlands surrounding the San Francisco Bay and Chesapeake Bay.
Government evaluations indicate that H.R. 961 and S. 851 would lead to substantial increases in water pollution and degradation of water quality. Greater levels of pollution mean more contaminated drinking water, higher costs for drinking water treatment, and loss of jobs dependent on clean water. When wetlands are lost, these costs are passed on to taxpayers, local communities and the public at large. Wetlands developers, however, reap most of the profits.
Analysis of Federal Election Commission records shows that political action committees (PACs) associated with companies that have lobbied for weaker wetlands protection laws have given $25.4 million in contributions to political candidates since the 1990 election cycle. In the past two election cycles alone, anti-wetlands PACs gave $5.5 million to members of the House of Representatives. These PACs also gave $5.9 million to current members of the Senate since 1990.
Big contributions by anti-wetlands PACs appear to have paid off in terms of anti-wetlands votes and cosponsorships. An amendment offered on the House floor on May of 1995 by Rep. Wayne Gilchrest (R-MD) to strip the worst anti-wetlands language from H.R. 961 was defeated by a vote of 247 to 180. Total anti-wetlands PAC contributions to members who voted against the Gilchrest amendment exceeded $4.1 million in the 1994 and 1996 election cycles, or $16,768 per vote. Anti-wetlands PAC contributions to members who voted for the Gilchrest amendment totaled just $1.15 million over the same period, or just $6,385 per vote. (See Figure 1.)
Figure 1. In the 1994 and 1996 election cycles, anti-wetlands PACs gave $4.1 million to members of the House who voted against the Gilchrest amendment.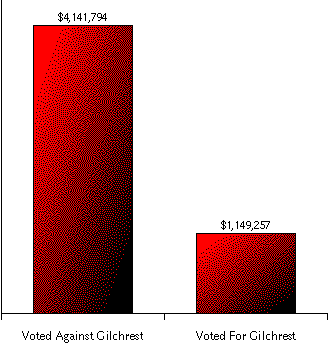 Source: Environmental Working Group. Compiled from Federal Election Commission data. Note: data for the 1996 election cycle include contributions through Dec. 31, 1995.
Similarly, Senate cosponsors of S. 851 received an average of $95,393 from anti-wetlands PACs from 1990 through 1995. Senators who did not cosponsor S. 851 received just $50,249 on average, over the same period.